Dedication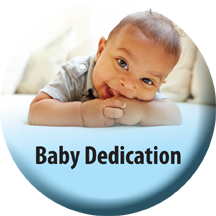 Welcome and CONGRATULATIONS! We are truly grateful for this opportunity to serve you and your family. As you prepare for one of the greatest decisions a parent could make, we want to partner and prepare you for the blessings and challenges of parenting. In addition, we are committed to equipping you to assume your role as the primary, spiritual influence in the life of your child.
WHAT YOU NEED TO KNOW:
The Baby Dedication Ceremony occurs on a quarterly basis.
The ideal Range for dedicating your child is between birth and 4-years-old.
All parents are required to attend 1 orientation class prior to participating in the ceremony.
Please complete this form in it's entirety.